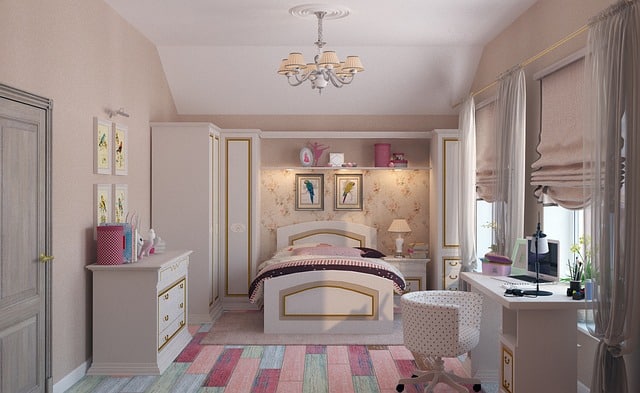 If you are at sea or are not sure how to get started with building a befitting nursery for your child, don't let it bother you because we have got you covered. We will guide you on how to build a nursery from scratch. We will also discuss important tips for designing your nursery.
Factors to consider when building a nursery
1. Have a mental picture of what you want the nursery to look like
While deciding on the theme and style available for your nursery, it is always good to have it at the back of your mind that there is no one-size-fits approach.
However, it would be best to make your choice of style and theme with an open mind. There are a lot of designs and concepts out there — you can take a cue from them and design something unique and astonishing for your little one.
2. Choose your textiles first
It is always best to make your choice of curtains and beddings before painting the nursery. The last thing you want is a clash of colors.
Thankfully there is a myriad of colors you can choose from to match your textiles. So, you don't have to worry about not finding matching paint colors after buying your fabrics.
3. What is your focal point?
After choosing your fabrics and completing the painting job, the next thing is to identify the focal point of the nursery. For most people, the focal point of their nursery is the baby's crib. But it doesn't always have to be the crib, you can have an oversized toy sitting somewhere in the room or make your dresser plush.
4. Decorate your nursery
It would be nice to decorate the ceiling of the nursery. Considering the gladness that babies spend most of their time lying on their back, it would be nice if you have them something to marvel at.
Also, consider heavy window plantation blinds to prevent excess heat from getting in. Having blinds in the nursery also helps babies to have quality sleep and rest comfortably.
Insider tips on things you should know while decorating your nursery
1. Keep everything you need within reach
Think of everything you need from wipes, table covers, burp cloths, pacifiers, your laundry hamper, and a diaper disposal system. Always ensure that you have these items within reach. You don't want to risk having your baby fall off because you dashed somewhere to grab something.
2. De-clutter
Because babies require lots of stuff to keep them clean and healthy, you afford to have any item buried under piles of clothes or hidden under your dresser or cabinets.
Besides the risk of tripping, a cluttered space makes it difficult to find things whenever you need them — especially at night when you need to find toys or books for bedtime stories.
3. Opt for washable wallpapers
Yeah, most people may take this for granted and probably neglect it but having a washable wallpaper is an invaluable addition to your nursery when pee spray hits the wall.
4. Get your lighting right
While making your choice of lighting for the nursery, consider nightlight bulbs or lambs. This way you can mimic nighttime whenever you need your baby to catch some sleep.
Nightlight bulbs are also decor elements you can use to spruce up and transform your nursery. Another trick you can use to control the lighting in your nursery is using heavy curtains or window shades.
Timeline for designing your nursery
Here is a time we found helpful in designing your nursery. It will help you stay on top of your nursery project.
You should have a theme and budget for your nursery by 18 to 20 weeks.
Get your furniture in place by 21 to 24 weeks. Sometimes furniture may take forever to arrive so always order early.
Have the wall painted or install the wallpaper between 23 to 25 weeks.
Choose your storage system and have them installed by the 25 – 27 weeks
If you stick to this timeline, by 36 weeks you will be ready for the arrival of your baby.
Hopefully, that helps.
Here are 7 steps you can follow to build your nursery from scratch.
1. Think about what you want the nursery to look like and have a budget
2. Start early so that can have enough time to build your nursery. You can start when you are in your second trimester.
3. Take measurements of the room so that you don't buy items that won't fit into the room.
4. Make the nursery baby-proof by making safety your priority as you build. Go for furniture with rounded edges, install smoke and carbon monoxide detectors and keep cords away from sight and the reach of your baby.
5. Choose a befitting theme for the room. Always settle for neutral colors and build and design the nursery around a theme. Some popular themes include sports, nature, popular world landmarks, ballerina, and lots more.
6. Flooring — Because carpets can harbor allergens, it's advised that you opt for hardwood floors. Having a rug over the floor is also a great idea.
7. Paint or wallpaper?
While making your choice of paint or wallpaper, always opt for friendly paints like low VOC (volatile organic compound) paints. VOC paints don't release harmful chemicals like standard paints.
In conclusion
There you have it, steps on how to build your nursery from scratch. In addition to all of what we have shared so far, all you have to do is make the right choice of furniture (crib and mattress, changing table, nursery chair, dresser, and storage), arrange the room (with safety in mind), choose appropriate accessories and stock up on baby essentials.