Do you know what it is in your favorite beauty products and skincare? Even if you read the label of the ingredient from front to back, chances are you may not know exactly what each ingredient means. Yes, this is also true of some of your favorite vegan beauty products.
Purchases of hygienic skincare products are increasing, and consumers are becoming increasingly aware of ingredient labels, although the ingredients may not always be clearly labeled or labeled for comprehension. Fortunately, pure beauty and vegan products have made the ingredient more visible, but there are still many toxic and harmful ingredients hidden in cosmetics, cosmetics, and other beauty products. We want to empower you when it comes to buying your favorite products and safe formulas for use. Here, we will share some of the toxic ingredients you should be aware of, as well as tips for buying vegan cosmetics that are gentle on your skin.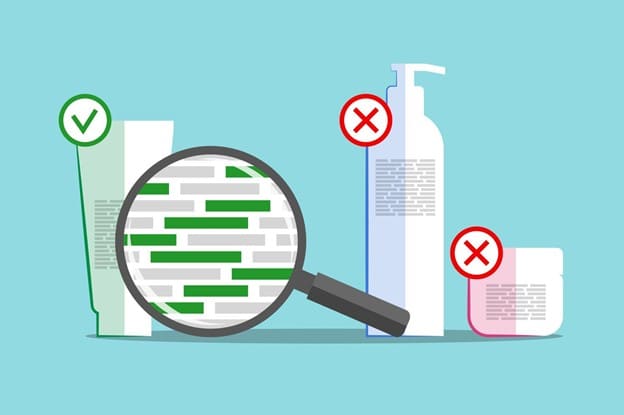 Source: Elena Abrazhevich/Shutterstock.com
Ingredients to Avoid in Skincare
There are so many different ingredients out there that could be harmful, and sometimes they can be disguised under different names. The next time you are referring to a product's ingredient label, use this list of ingredients to avoid to help you navigate to the perfect product:
Formaldehyde (Methylene Glycol, Paraformaldehyde, and Quaternium)
You have probably heard of this ingredient before because it's commonly used in household products, building materials, disinfectants, and mortuary preservatives. Do you want this on your skin or your hair? Absolutely not. Not only does formaldehyde not belong in beauty products, but it's also a known carcinogen, which means consuming enough of it could cause cancer. There are some products that disclose formaldehyde as being an ingredient, but it may also appear on ingredient labels as methylene glycol or paraformaldehyde. The ingredient quaternium is also known to release formaldehyde. Make sure to be vigilant for these ingredients!
Phthalates (Dibutyl and Diethylhexyl)
Phthalates are a no-go for us. Commonly referred to as dibutyl or diethylhexyl phthalates, these ingredients are found in many hair and skin care products even though they are hormone disruptors and are known to damage your reproductive system. Aside from their use in cosmetics, they are also known to make plastic products stronger. Again, do you want this ingredient on your face? No, thank you.
Parabens (Isobutyl, Isopropyl, methylparaben, propylparaben, butylparaben and ethylparaben)
Another commonly known hormone disruptor and reproductive system killer are parabens. Parabens are very common in cosmetic products because they extend products' shelf life and longevity. However, they are very harmful when applied topically.
PFAs (Polyfluoroalkyl, Polytetrafluoroethylene, Perfluorooctyl Triethoxysilane, Perfluorononyl Dimethicone, Perfluorodecalin, and Perfluorohexane)
Other types of carcinogens found in cosmetics and skincare are PFAs. There are many different kinds of PFAs, and some may not always be labeled because PFAs can also be created through the breakdown of other ingredients and raw material impurities. It can be hard to avoid this ingredient, especially if it occurs unknowingly. However, clean beauty products are always made without these ingredients. PFAs are mainly used to provide skin-smoothing benefits in products like lotion.
Mercury (Mercurous Chloride, Calomel, Mercuric, and Mercurio)
If you didn't already know, mercury is a very harmful ingredient if consumed or applied topically, as it's known to damage your nervous system and kidneys. Most skincare and cosmetic products that contain mercury may use a different name for the ingredient on labels, so be aware.
Source: Mark Nazh/Shutterstock.com
Synthetic Fragrances
Beware of synthetic fragrances in your favorite skincare products. While fragrance can be nice, it could be harmful to your skin and create skin sensitivities. If a product contains fragrance, it is usually listed as fragrance or parfum.
Oxybenzone
Sunscreen is very important when it comes to having a complete skincare routine. However, the ingredient oxybenzone is commonly found in sunscreen and can be endocrine disruptor.
Homosalate
Also commonly found in sunscreen products, homosalate is another ingredient to look out for since it is known as a hormone disruptor.
Talc
While talc is mostly safe, it does have the potential to be contaminated with asbestos, which is a known carcinogen.
Why Are Skincare and Cosmetics Made with Toxic Ingredients?
You may be asking yourself how it's possible that cosmetics and skincare are made with commonly known toxic products that can cause many different kinds of healthcare issues. How is this legal or allowed? According to the Food and Drug Administration (FDA), cosmetics and skincare products are not only lightly regulated, but most products do not need FDA approval before going to market. This means, as long as cosmetic or skincare products don't contain color additives, they are free to be sold regardless whether or not they include any other toxic ingredients.
Source: Jacob Lund/Shutterstock.com
Clean Beauty Takes Out the Guess Work
If you're feeling concerned about using these chemicals and how many of them you may already be putting on your skin, try not to worry! There are many products out there that do not contain these ingredients and which can help you become happier and healthier. By investing in and shopping for clean beauty products, you will take out the guesswork and burden of having to closely read and break down ingredient labels because clean beauty is made without these harsh and toxic ingredients.
Look for clean beauty icons and seals, as well as dedicated clean beauty brands and sections in your favorite beauty store or online. You can also educate yourself on clean beauty and the many benefits of using products that don't contain toxic chemicals, to further empower your purchasing decisions.
While this information may be a shocking wake-up call, it serves as an important reminder to be more vigilant of certain ingredients. And, since you will probably become more in tune and in touch with clean beauty products, your skin and health will be one step closer to leveling up and ridding your skincare cabinet of toxic chemicals and harmful ingredients.