In the 21st century, there is an increasing number of people who value their health more than anything else. More and more students, as well as employees, are eager to take good care of their whole well-being despite their busy schedules. They are now consuming foods rich in proteins, carbohydrates, vitamins, minerals, and water instead of eating foods high in sugar, sodium, and fat. Ultimately, they can't let a day pass by without them exercising.
Knowing that a huge number of people are shifting towards having a healthy and active lifestyle, it is a great idea to build your own fitness center. It guarantees you a high return on investment with low financial risks. However, it is not enough that it contains gym equipment and materials to attract fitness-focused people who are looking for a place to start and continue their wellness journey. You have utilized the gym interior design that can give them the best wellness experience and increase their quality of life. Check out the design ideas below that can help make your fitness center stand out from the rest of its competitors.
What is a fitness center?
A fitness center is a facility that is designed for health and recreational activities. It can be a place where people can exercise, do sports, and perform physical activities. If you are an entrepreneur, you can make it a for-profit commercial facility that can be one of your sources of income. For it to be successful, your target market should not only be focused on serious athletes, but also casual recreational students, employees, and adults.
A fitness center must allow people to perform yoga, martial arts, and cardiovascular and weight training. As the owner, you may hire trainers that would ensure that they are performing individual activities the right way. To encourage social interaction to build a harmonious community, you may add functional chairs, sport seating, and snack bars.
The best design ideas for your fitness center
1. Think about the floor plan and the space area
No one would want to perform physical activities in a small, cramped, and cluttered space because it is not conducive for training. However, it does not mean that you need a large facility for people to enjoy your fitness center. What you need to do is to give yourself enough time to make the best floor plan. You must be able to turn a small area into a comfortable space that can entertain numerous workouts and hold several training equipment, chairs, and storage. To increase the appeal of the place, you should also focus on its design and layout.
If you will be able to use the best floor plan and utilize the space efficiently, you can expect that the fitness center is on its way to success. A functional, safe, and comfortable environment can help create loyal patrons who will come back again and again.
2. Use a fresh and energizing color palette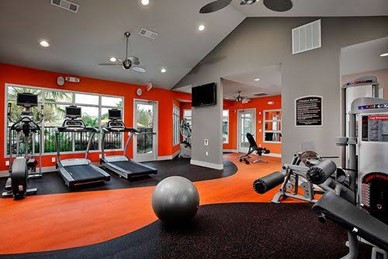 For your commercial facility to be successful in the fitness industry, you must make it more than just a space full of gym equipment with pale concrete walls. You have to recognize the role of color psychology in attracting customers that can consequently boost sales. Make sure to use a fresh and energizing color palette for your equipment, chairs, and tables. It is recommended to utilize subtle colors if you want to make an area calm and tranquil perfect or low adrenal zones.
You must place chairs and equipment with a splash of red and orange in areas where gym members perform intense workouts. On the other hand, simple and neutral colors for walls, chairs, and equipment must be used in meditation rooms because of their soothing and pleasant appearance.
3. Use the biophilic design
The biophilic design is one of the interior approaches that seek to create a space that looks similar to nature. It aims to incorporate natural lighting, landscape, and features in an area to improve occupants' productivity. It is the best design to use in order to have a fitness center with a positive effect on physical health and emotional state of mind.
This design will require you to use natural patterns and colors for almost all of your equipment and furniture items like chairs and tables. You must also make sure that these furniture pieces are made out of natural materials like wood and stone. Additionally, green must be the dominant color so purchase decorative items and chairs in green.
4. Improve the lighting and ambiance of the fitness center
Aside from the floor plan, design, and color palette, you must also take into consideration the lighting and ambiance of the fitness center. They must match the overall appearance of the place as well as the brand image you are trying to convey to your gym members. Make sure to add chairs and tables in an area with enough natural light so that they can take aesthetically pleasing photos. If the place doesn't have access to natural light, you must invest in lighting fixtures to make the place as welcoming as possible.
5. Create a social gathering space
If your fitness center will implement group exercise activities like group cycling or yoga, it is a great idea to create a social gathering space composed of visually appealing chairs and tables. It will allow gym members to socialize with one another before and after the exercises. This space will be beneficial to be able to establish a strong relationship with clients.
In Conclusion
With the recent success of the fitness and wellness industry due to the increasing health-conscious people, fitness centers have now become great business ventures. As the owner, you must not underestimate the role of the interior design of the gym because it is one of the many factors that will help attract gym members and make your business stand out. You must pay attention to new design trends and make sure to incorporate them in the way your facility looks!
Read more on our Home Blog!
Photo by Penguinuhh on Unsplash