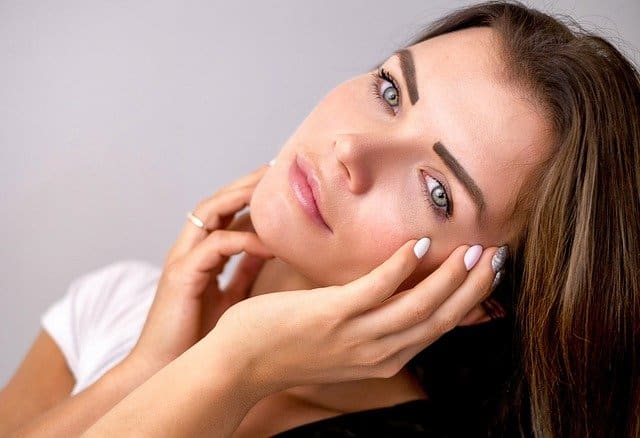 Clocking past 20 means your body is undergoing the inevitable process of aging, which tends to take a toll on your skin and hair. While you can afford to rely on your body's ability to maintain your skin and hair in your 20s, you'd have to work extra hard to keep looking fabulous in your 30s. The good thing is, we've got you covered with some of the best hair and skin beauty secrets for 30+ moms.
Skincare Tips
1. Water is Your Best Friend
The first step to healthy skin is to drink lots of water. Besides improving a ton of body functions, water makes your skin "pop" by keeping dry, flaky, and dull skin at bay. Several studies have proven that drinking just two cups of water accelerates blood flow to the skin which promotes an even tone. It also increases skin elasticity which prevents premature aging. Drinking water is my beauty secret that never fails.
2. Incorporate a CTM Routine
Add a CTM (cleansing, toning, and moisturizing) routine to your everyday list. Cleanse your face thoroughly before you call it a day. A good toner minimizes the appearance of unsightly pores and tightens the skin temporarily. While moisturizing helps the skin retain moisture, banishes wrinkles, and wards off acne.
3. Sunscreen Is Non-negotiable
Use sunscreen always, even in the middle of a snowy winter season. Sunscreen protects your skin against harmful UV rays and bestows photo-aging benefits. Use a sunscreen with at least SPF 30 and a PA+ rating. The SPF acts as a shield against UVB while the PA rating protects against UVA rays. When buying sunscreen, choose products with a PA +++ rating. The higher the rating, the better the protection.
4. Exfoliate Religiously
Your skin cleanses itself by shedding dead cells and other debris from its outer layer. However, these cells can accumulate on the top layer of your skin over time, making your skin appear dull, flaky, patchy, and dry. Exfoliation helps to get rid of these cells thus improving the appearance of your skin. It is highly recommended to exfoliate once a week and nothing more. There are several exfoliating agents on the market including scrubs and exfoliating brushes.
5. Take Supplements
At 30+, your skin assumes a maintenance phase and as such you need to lend it a hand by taking nutritional supplements. Supplements like vitamins and collagen can boost your skin health and improve elasticity. Before starting any supplement, make sure to consult your doctor first.
Hair Care Tips
1. Feed Your Hair with Sufficient Oil
Oiling your hair regularly protects your hair against several damages. It erects a protective barrier against surfactants (commonly included in shampoos and other hair care essentials) that are known to damage hair. Coconut oil is one of the best oils for hair as it penetrates the hair shaft and minimizes hair protein loss.
2. Trim Your Hain Intermittently and Use a Blow Dryer Sparsely
Split ends are such a pain in the hair, not to mention ugly to look at. However, trimming your hair at regular intervals can prevent the development of this hair menace. Drop the unhealthy habit of blow-drying your hair at the slightest sign of wetness. Allow your hair to dry naturally, before using a blow-dryer. For frizz-free hair, air-dry your hair until it has lost 60-70% of its moisture before working the tool through your hair, from the root to the tip.
3. Adopt the Use of Heat Protectants
If you are a fan of straighteners and curling tongs, always spritz a heat-protecting spray before styling. Heat, weather applied moderately or in excess can cause damages to your hair over time. So, it is best to use a heat protectant each time you apply heat to your hair.
4. Take Breaks from Hair Coloring
Though a colored hairstyle is as chic as can be, you don't want to use hair dyes regularly. This is because hair colors harbor harmful chemicals that can cause devastating damages to your hair. But if you can't do without coloring your hair or it is perhaps your signature style, use dyes that are devoid of ammonia. Ammonia is a common ingredient in hair colors that dyes the hair through the shaft posing long-term damages. Also, use color-protecting shampoos and conditioners to guard against further damage, whenever you color your hair.
5. Use Shampoo and Conditioner Appropriately
While shampoos and conditioners are an integral part of every mom's hair care routine, regular or improper use of these two products can breed consequences. Excessive shampoo use can weaken the hair due to its surfactant content. Always dilute your shampoo in a cup of water before applying it to your hair. For hair conditioning, do not apply the product from the root to the tip as it may lead to build-up and dirty your scalp.
And there you have it. Little secrets for moms to stay beautiful at 30 and beyond. We share tips like these regularly. So, check back so you don't miss out. Stay safe.